Three new online games !
I had fun reprogramming Poux, one of my old games, to see if I could play it on my smartphone from the site. The experience being conclusive, I decided to try with other games.


Poux
Poux is therefore the first and indeed, as it suffices to click on boxes, the mouse on a computer or the finger on a smartphone have the same function.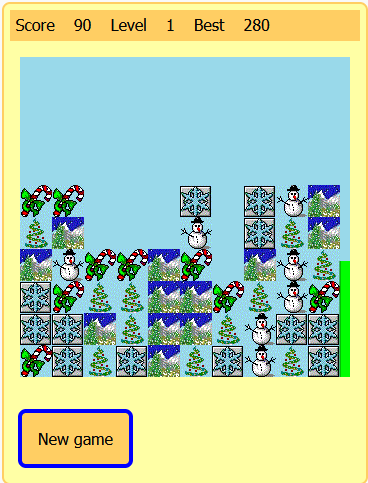 You can test for yourself by clicking here:
Click here to play Poux
Other games
I decided to also program two other of my games.
- Bombarder.
This was played simply by pressing the space key. So, it is sufficient to replace this way of playing with a click on the screen.
- Missile Command.
The old version used both mouse buttons. So I had to slightly modify the principle of the game to be able to play it with a single button of the mouse or the finger.
Eventually, I wondered why we should always install apps on our smartphones, when most games are simplistic and would just be played in the browser like on a computer.
After all, the smartphone is a computer.
I have grouped all smartphone games in a new section, which you can discover here:
Classic games for computer or smartphone
If you forgot them or if you discover them, here are screenshots of Bombarder and Missile Command