2009-08-07::Games announce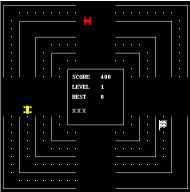 In summer the weather is really hot in the French Riviera, where I live. It is impossible to make games, the brain is too hot.
But I saw a photo of Dodgem, who reminded me the first game of my life.
I decided to make it for Arcade Village.
2009-08-06::Site life
The site has been stopped for maintenance raisons until 2pm.
Sorry for the problem.
Comment are not allowed